12 July, 2023 - 17:47 by felix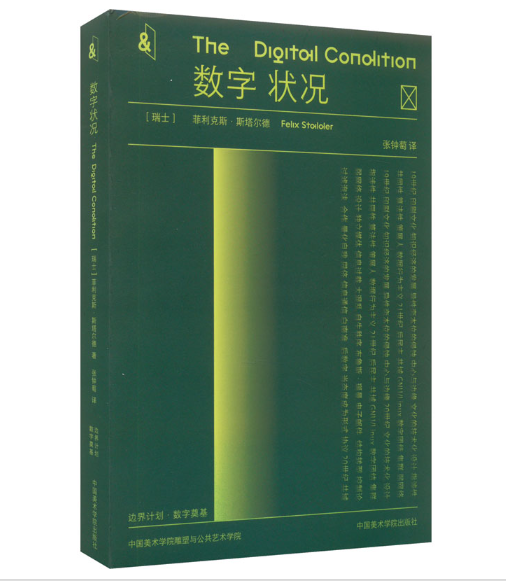 内容简介:当前的文化与政治等诸多方面均受到数字状况的影响。本书认为,这种 影响涉及更多的人参与到有争议的社会意义的协商中。更多的人利用复杂的 通信基础设施,同时又被社交媒体所主导,不仅引发了当前的文化、社会与政 治现象,还导致新的行为方式的产生。作者认为,这种状况有三个关键的成 部分:利用现有的文化材料进行自己的生产,通过集体来努力地建立新意义的 方式,以及算法与自动决策的潘在作用,三者界定了"数字状况",作者田洲 了导致当前状况的历史性结构转型,还研究了这种新文化造成的深远的政治影 响,附录文章《数字团结》的出发点,是2008年全球经济危机爆发后出现的网 格化政治组织形式的新浪潮。作者繼卡尔·马克思之后,阐述了在当前应用创 新和技术进步,与组织或限制这种进步的经济机构之间的矛盾,生产力与生产 关系之间的矛盾被置于如下背景中:我们已经永远地离开了麦克卢汉的古堡 星系,关于我们将抵达哪里的斗争才刚刚要开始。本书对于关心艺术、媒介、 传播、社会、政治与文化研究,以及想要了解今天的文化与政治正在发生的变 化的读者必不可少。
边界计划:"边界计划"是由中国美术学院雕塑与公共艺术学院在2020年启动 的研创计划,它深信艺术不仅能够,也必须在突破与划定边界之间不断追问和 演绎,其研究出版的首个方向围绕雕塑与公共艺术,传递与艺术作为一个"形 "象"的文化与社会意义相关联的普遍性问题:再由"数字奠基"接力,触发有 关当下及未来的感受力与艺术力。"边界计划"提倡一种"阅读"的过程,并 与来者共筑一个无界却有形的生态.
This book is a translation of two of my books 
Digital Condition and Digital Solidarity,
published by the School of Sculpture and Public Art of China Academy of Art. Officially, it will be released in fall 2023, but you can order it already on dangdag.com.