28 November, 2022 - 12:30 by felix
I'm very proud to present: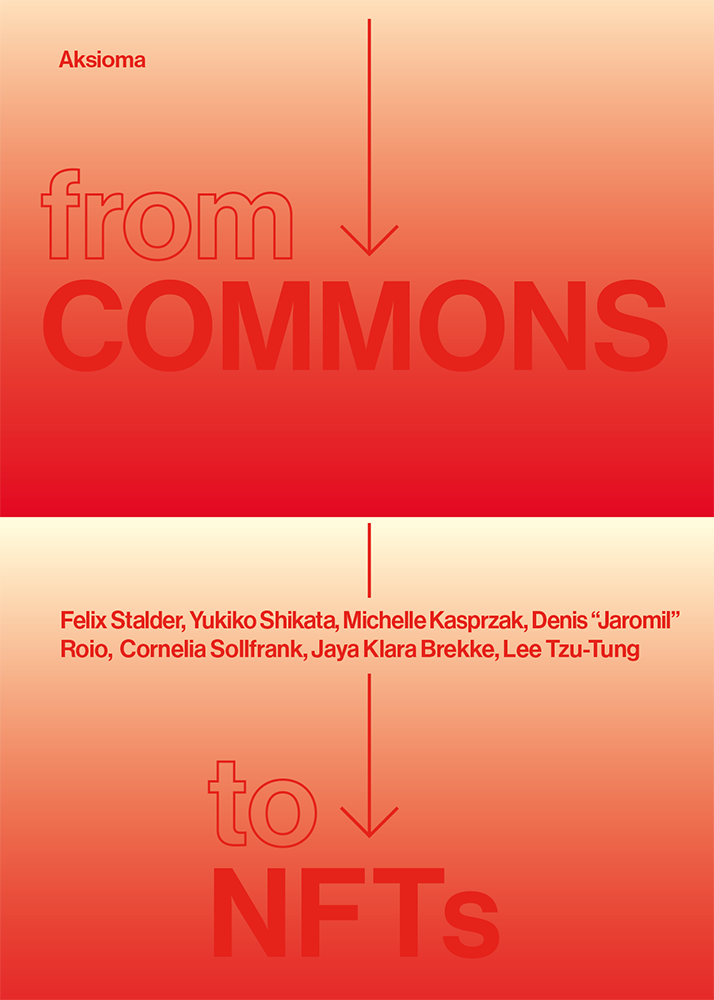 The seven essays in this book examine the desires and impulses that drive digital culture, focusing on the shift from commons to NFTs, from new forms of sharing to the expansion of private ownership and tradable commodities. They reveal just how much our culture has been transformed in the last 20 years, but also unearth surprising continuities between the commons and some of the truly experimental uses of blockchains.
Written by artists, researchers, curators and technologists from Europe, North America and East Asia, these essays bring much-needed first-hand experience and long-term perspective to the discussion.
You can order it from here. Also check out the conference From Commons to NFTs we held on Nov. 11, in Ljubliana to launch the book and discuss recent developments.
COLOPHON
From Commons to NFTs
Contributors: Felix Stalder, Yukiko Shikata, Michelle Kasprzak, Denis "Jaromil" Roio, Cornelia Sollfrank, Jaya Klara Brekke, Lee Tzu-Tung
Editors: Felix Stalder, Janez Fakin Janša
Editorial assistant: Rok Kranjc
Language editors: Miha Šuštar, Cherise Fong
Japanese language consultant: Iztok Ilc
Design and layout: Federico Antonini, Alessio D'Ellena (superness.info)
Year: 2022
ISBN: 978-961-7173-17-8
Published by: Aksioma – Institute for Contemporary Art, Ljubljana
Represented by: Marcela Okretič Ljubljana, October 2022 
Originally published in the online magazine Makery.info between January and July 2022 in both English and French for the essay series From Commons to NFTs initiated by Shu Lea Cheang, Felix Stalder and Ewen Chardronnet. Makery is a project by ART2M, directed by Anne-Cécile Worms.
Translations
French
The complete series of essays has been translated to French by makery.info at the time of publication.
Chinese
The complete series of essays has been translated to Chinese by Taoyuan Science and Art Festival, Taiwan. Print Magazine, online and as a podcast
Japanese
The complete series of essays has been translated to Japanese under the direction of Yukiko Shikata and will be published in 2023
German
Felix Stalder, Digitale Objekte & radikale Vorstellungskraft. Versorgein, Linz, (Juni 2022)
Spanish
Sollfrank, Cornelia, MI PRIMER «NFT» (Y POR QUÉ NO ME CAMBIÓ LA VIDA), published in Xenomórfica Magazine Online, 27 July 2022